Our recruitment company in Warsaw specializes in conducting effective employment processes for clients from various industries. We have an excellent knowledge of the job market, we follow the emerging offers, and search for candidates – specialists ideal for positions in many fields. We also have extensive experience in personnel consulting for companies.
Recently the labour market has been changing very dynamically; therefore, tracking down the appearing job offers is one of our priorities.
The offer of our recruitment company includes a wide range of support for employers, candidates for various positions as well as already employed people. It consists of Executive search, Recruitment and selection, Outsourcing and Outplacement.
If this is the agency you are looking for, and you want to carry out a professional employee recruitment process with support of specialists, we invite you to cooperate with us!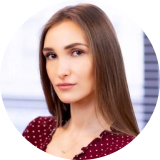 Recruitment Consultant
gabriela@ubpconsulting.pl